TOURING
AT A GLANCE...
Great Moments with
Mr. Lincoln
Gadget's Go Coaster
Minnie's House
ENTERTAINMENT
Disneyland Marching Band
Together Forever...A Pixar Nighttime Spectacular
SPECIAL EVENTS
SPECIAL REPORTS
OTHER THEME PARKS
Overview

Disneyland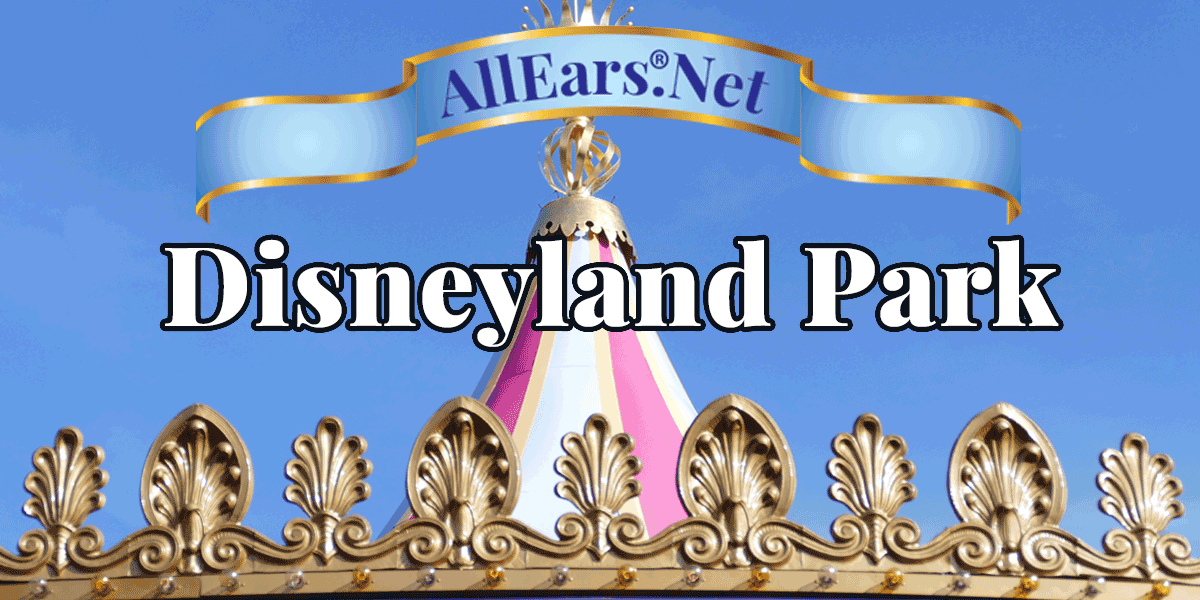 "To all who come to this happy place... Welcome. Disneyland is your land.
Here age relives fond memories of the past... and here youth may savor
the challenge and promise of the future.
"Disneyland is dedicated to the ideals, the dreams, and the hard facts
that have created America... with the hope that it will be a source of joy and inspiration to all the world."
(Official dedication plaque located at the flagpole in Town Square on Main Street.)
Known as the "Happiest Place on Earth," Disneyland opened on July 17, 1955. More than just an amusement park, this "theme park," with its five themed "lands," was the first of its kind, and continues to fulfill Walt Disney's dream of creating a place where parents and children can have fun together.
Now Disneyland has grown to eight different lands, with over 40 attractions designed to appeal to guests of all ages - the young as well as the young at heart.
What's New?
Halloween Time returns to the Disneyland Resort for frightful fun from September 7-October 31, 2018. At Disneyland, Mickey's Halloween Party will take place on 15 nights in September and October. The seasonal attraction Haunted Mansion Holiday returns, along with Space Mountain Ghost Galaxy and the Dia de los Muertos celebration.
The Pixar Play Parade has moved to Disneyland and includes new elements such as Luxo, Jr., and characters from "UP" and "Inside Out".
Mobile Order of foods and beverages is available at select quick service restaurants at Disneyland and Disney California Adventure.
Rey Meet and Greet - Rey is available for a meet and greet along with Chewbacca, Darth Vader, and Kylo Ren in the Star Wars Launch Bay.
Star Tours - The Adventures Continue has added new scenes from Star Wars: The Last Jedi and Star Wars: Galaxy's Edge.
Alien Pizza Planet - "A Better Place", with decor and menu items inspired by the Toy Story movies, has opened in the Redd Rockett's Pizza Port location in Tomorrowland.
What's Next?
The Holidays return November 9, 2018 - January 6, 2019. At Disneyland, this includes the return of the A Christmas Fantasy parade and the Believe...in Holiday Magic fireworks, along with the seasonal attractions it's a small world Holiday and Haunted Mansion Holiday.
Tropical Hideaway, a new food marketplace in Adventureland, will replace the former Aladdin's Oasis.
Star Wars: Galaxy's Edge at Disneyland and Walt Disney World. World. Originally announced by Disney CEO Bob Iger at the D23 Expo in August, 2015. Attraction and area closures at Disneyland took place in early 2016 and construction is underway, with a planned opening date in Summer, 2019. Current information as well as any future updates is posted HERE.
LAY OF THE LAND
Main Street, U.S.A. -- Just inside Disneyland's entrance gates is this re-creation of the main street of a small town in the early 20th century. There's City Hall, the Cinema, turn-of-the-century vehicles, and a variety of small shops.
Adventureland -- This exotic land combines elements of many foreign locales like jungles, bazaars, and tiki gods. One of Disneyland's most thrilling attractions, The Indiana Jones Adventure, is located in an ancient temple.
Frontierland -- Along the banks of the Rivers of America the wild, wild, west comes to life with attractions like Big Thunder Mountain Railroad and the Mark Twain Riverboat. Young and old alike can explore the mysteries of Pirate's Lair on Tom Sawyer Island.
New Orleans Square -- Stroll the streets of New Orleans' picturesque French Quarter, dine on gumbo and Monte Cristo sandwiches, and listen to the sounds of a Dixieland band. New Orleans Square is home to two of Disneyland's best known attractions: Pirates of the Caribbean and The Haunted Mansion.
Critter Country -- Splash Mountain and the Many Adventures of Winnie the Pooh make every day a zip-a-dee-doo-dah day!
Fantasyland -- In this land of enchantment and make-believe most of the attractions are based on a classic Disney animated film, like Dumbo, Peter Pan, Snow White, Alice in Wonderland, or Pinocchio.
Mickey's Toontown -- Visit the homes of Disneyland's most important citizens - Mickey and Minnie, Goofy, Donald and Pluto. Attractions include Roger Rabbit's Car Toon Spin and Gadget's Go-Coaster.
Tomorrowland -- Experience exotic planets on a thrilling Star Tours adventure, an undersea voyage of discovery with Nemo and friends in Finding Nemo Submarine Voyage, battle the evil Emperor Zurg at Buzz Lightear Astro Blasters, or take an exhilirating space coaster ride on Space Mountain.
Disneyland Live Entertainment -- A variety of live entertainment acts are featured throughout the park, from jazz and marching bands to comics and singing pirates.
Disneyland Attractions at a Glance
Disneyland Restaurants at a Glance
KIDS AND CHARACTERS
There are many opportunities for kids to meet and greet their favorite characters. Consult the daily Times Guide for regularly scheduled times and locations. In addition there are usually characters available early in the day near just inside the Main Entrance and around Town Square. Disney Princess meet and greets are available in the Royal Hall at Fantasy Faire.

If you have comments or tips to share with others about touring Disneyland, please email us. Thank you.